Following is an historical account of the beginning of the Budlong family in the United States. This text, the culmination of many hours of research, was presented by the author at the April 1994 meeting of the Roger Williams Family Association.
Francis Budlong
1641-1675
An Early Settler of Warwick, Rhode Island
by
Janis "Jill" Stevenson
Most Rhode Islanders are very familiar with the name Budlong. Many of us have spent hot summer afternoons in the cool waters of Budlong Pool in the Pontiac section of Cranston, the cement bottom rough on our feet and locker tags dangling from our ankles. Most of us have driven by the Budlong Library in Apponaug, that small, stately yellow-brick building nestled next to City Hall. Just about all of us have traveled down Budlong Road near Garden City in Cranston. And surely some of us have driven down Buttonwoods Drive in Warwick and paused to admire Budlong Farm with its beautifully-preserved red farmhouse and barn. But who are the Budlongs and why is the name so prevalent throughout Rhode Island? The story begins at Brayton Cemetery in Apponaug. There, a tall polished granite monument pays tribute to the first Budlongs who settled in Rhode Island more than three hundred years ago. This monument tells a sad tale: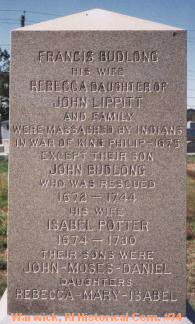 "Francis Budlong his wife Rebecca daughter of John Lippitt and family were massacred by Indians in King Philip's War of 1675/76."
The majority of Rhode Islanders, although surrounded by the name Budlong at every turn, have never seen this stone. They've never wondered, "Who was this pioneer family? Where did they live? What happened to them?" City archives and historical narratives yield little information and one soon realizes that the Budlong family - their origins, their way of life, their deaths - will remain, for the most part, a mystery. The town records of Old Warwick offer little in the way of answers. Although much is written about many other members of the Warwick community ... Samuel Gorton and John Greene, for example ... there is scant evidence that Francis Budlong and his family even existed. Family legends declare that Francis was a Frenchman, probably a Huguenot refugee, whose original name was either Bourdillon or Boutelogne. He apparently was the first and only person with the name Budlong to settle in the New World. The name was first entered into the Warwick town records on March 19, 1669 when Francis Budlong celebrated his marriage to Rebecca Lippitt. This document states:
"Warwick ye 19th of March 1668/69 Francis Budlong and Rebeca Howard, widow of Joseph Howard, were married by Capt. John Greene Generall assistant on a fryday in her father John Lippitt's house."
Rebecca Lippitt had previously married Joseph Howard on 2 February 1665. Joseph died sometime between 2 October 1665, when his name was mentioned in the records of a town meeting, and 19 March 1668/69 when his widow remarried.
Where Francis Budlong and his bride lived following their marriage is uncertain. They may have settled on land originally owned by Rebecca's first husband. Joseph Howard had purchased a twelve-acre homelot in Warwick in 1664, a year before his marriage to Rebecca. This lot, as near as can be ascertained from the records, was located in the eastern portion of Warwick Neck in what is now the Longmeadow area. It's possible that, following Joseph's death, Rebecca inherited this property and continued to reside there with her second husband. Or it may be that Francis Budlong already owned his own property somewhere in Warwick and took his wife, Rebecca, to live there. Unfortunately, the second book of Warwick records covering the time that Francis Budlong might have bought his land has been lost and, with it, any certainty about the location of the land on which this family lived. Wherever they established their home, the Budlongs began to raise a family ... at least one child, John, and perhaps others. There are three more entries about Francis Budlong in the record books of Old Warwick. On April 30, 1672 Francis Budlong became a freeman and was thereafter allowed to vote and participate in the town's government. He proved himself a loyal citizen when, on June 15, 1672, he joined with his fellow Warwick landowners against their Connecticut neighbors and "pledged to stand together against the intrusions of Connecticut and to send an agent to England praying relief therefrom."
In 1674, Francis Budlong served the town of Warwick as a juryman. These few entries in the town records are all that remains about the first Budlong family. There is no mention of how Francis Budlong supported his family. He's not listed as a tanner or blacksmith or miller. It's probable that, like many other men in early colonial Rhode Island, he was simply a farmer and husbandman. The Budlongs undoubtedly lived a difficult life and endured many hardships throughout the few short years of their marriage. Life in the New World was not easy. They had to struggle against the harsh New England weather, the threat of accident and disease, and colonial neighbors who coveted their land. In the end, however, it was the natives of the region who inflicted the greatest injury on the family. In November of 1675, following a summer of bloody battles between the Wampanoag Indians and the Massachusetts and Connecticut colonists, a band of Indians attacked the Budlong homestead. Francis Budlong "was killed by the Indians, with all his family except his son John." Three-year-old John Budlong, witness to his family's slaughter, was kidnapped and carried off into the dense woods of Old Warwick.
Once again, questions arise surrounding Francis and Rebecca Budlong. Why did the Budlong family remain at their homestead in Warwick during King Philip's War instead of seeking safety at Newport like so many other Rhode Island inhabitants? Why didn't they at least seek protection in one of the garrison houses at Old Warwick? Some answers may be found in the curious story of fellow Warwick resident, John Wickes. Wickes was a tanner and, like the Budlongs, was killed by Indians in November of 1675. The following quote is taken from Oliver P. Fuller's The History of Warwick, RI: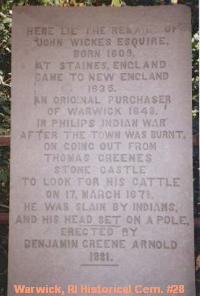 "... on the approach of danger, when garrisons had been provided and the inhabitants generally had repaired to them, he could not be persuaded that he required any protection against the natives. From his past experience of their uniform kindness and goodwill towards him personally, he was slow to believe himself in danger, and to the oft-repeated admonitions of his friends to be more careful of his safety, his answer was that he had no fears of injury from the Indians - that they would not hurt him. With this mistaken confidence in their fidelity, he ventured beyond the protection of the garrisons; and going at evening into the woods in search of his cows, he did not return. His fate was first known to his friends on seeing his head set upon a pole near his own dwelling on the following morning. This they immediately - and before venturing in search of the body - buried near the stone garrison and within a few rods of it. The body, which was found on the succeeding day, was interred beside the head, but in a distinct grave; and two little hillocks which mark the spot are still shown as the grave of John Wickes."
Note the statement above that the inhabitants generally had retreated to the safety of the garrison houses during King Philip's War. The Budlongs, like the unfortunate John Wickes, may have been reluctant to leave their worldly possessions unprotected. They may have felt that, since Rhode Island had not formally joined the United Colonies against King Philip, they were not involved in the war with the Indians and were immune from the killing that was taking place all around them. Unfortunately, what Wickes and the Budlongs apparently failed to realize is that the Narragansetts were quickly developing a mistrust of all white men. Also, Indians other than the friendly Narragansetts were roaming throughout Rhode Island. King Philip had recruited Indians from many tribes throughout New England, and many were ranging over the countryside in small bands, eager to exterminate the white colonists and plunder their supplies. Like Wickes, the Budlongs refused to see the terrible danger lurking in the usually-benign woods of Warwick. Francis and Rebecca Budlong chose to remain on their homestead, and paid for that mistake with their lives.
Even this, the extinction of all but one member of the Budlong family, is shrouded in mystery. Detailed accounts of King Philip's War, compiled from military records and soldiers' journals, chronicle events of the war in day by day fashion. Yet none of these records mentions the massacre of the Budlong family at Warwick. Even Oliver Fuller, quoted earlier in regard to John Wickes, states that Wickes was the only person in Warwick known to have been killed by Indians during the war. Even the burial site of Francis and Rebecca Budlong is a mystery. After an exhaustive search of virtually every historical cemetery in Warwick and nearby Cranston, no gravestones can be located for these people. Even as far back as 1891, when James Newell Arnold scoured Warwick recording cemetery locations and inscriptions, he made no entry for Francis and Rebecca Budlong or any of their children. The location of their graves was undocumented even at that time. Of course, this is not surprising. There are very few gravestones dating from that particular time in Rhode Island's history. And it is almost certain that the Warwick residents who stayed behind during King Philip's War had little opportunity to erect lasting monuments to their unfortunate neighbors.

Still, the monument at Brayton Cemetery might hold a clue. Inscribed on the four sides of the stone are the names of several generations of the Budlong family, including Francis and Rebecca. At the end of the list are the words, "removed from Brush Neck Farm 1903." Brush Neck Farm was located in the Buttonwoods section of Warwick and was owned by the Budlong family for many generations. In 1903 the remains of those interred on the land were moved to Brayton Cemetery in Apponaug. It's true that the monument is more a genealogy stone than a grave marker. Of the twenty- six names listed on the monument, only five are known to have been originally buried at Brush Neck Farm; five others are known to have been buried elsewhere. Still, it is possible that Francis and Rebecca Budlong were residing at Brush Neck Farm in November of 1675 and that, after the Budlong Family massacre, they were buried on their homestead. At this point in the story of the Budlong family, the veil of mystery begins to lift.
A few weeks after the Budlong massacre at Warwick, a contingent of soldiers from the Connecticut, Massachusetts, and Plymouth colonies began a long, cold march to the Narragansett Indians' winter quarters in South Kingstown. Led by Josiah Winslow, they trekked through the woods until they came to the Great Swamp. There, on December 19, 1675, they staged a surprise attack on the natives, killing hundreds of men, women, and children. Two weeks after the Great Swamp Massacre young John Budlong, who had been taken away by the Indians several weeks earlier, was returned to the white settlers. As one military journal noted:
"January 5th, the Indians sent in a captive child, three or four years of age, belonging at Warwick."
Some historians think this may have been a gesture of goodwill on the part of the remaining Narragansetts - an attempt to placate the United Colonies and prevent any further punishment on an already decimated tribe. Yet some Budlong family legends state that young John Budlong was rescued from his kidnappers rather than returned by them. These legends, as legends will, add a little color to the story. The following quote is from The Journal of Walter Potter:
"A curious story is told of John's rescue. The legend has been handed down in the family from one generation to another, and some old relics recently discovered tend to substantiate its authenticity. The custody of the children had been entrusted to an old squaw. This fact being discovered by John's mother's people, they set about getting their release when the battle was raging some distance away. Only John, however, was saved and his rescue was obtained by bribing the old squaw with a big red pumpkin. This was the price of the liberty of John, then a child of three years."
Yet another family legend states that young John was saved by a friendly squaw who hid him in a Dutch oven during the November raid, and that he was later traded to his uncle for a load of pumpkins. Whether Indian pride or English pumpkins was the price of his freedom, young John Budlong was soon returned to his mother's family. He was brought to the home of his uncle, Moses Lippitt, and raised there in Warwick along with his four cousins after the war. In 1692, when this sole survivor of the Budlong family massacre came of age, he bought twenty-five acres of land in Buttonwoods. He married Isabel Potter in 1697 and, by 1700, had built a beautiful home. This house, one of the oldest in Warwick, is located on Buttonwoods Avenue and was originally a one-room stone-ender. The house and surrounding farm are described in the Rhode Island Historical Preservation Commission's report as:
"... a large property containing several barns and a 1½ story, gambrel-roofed, center-chimney dwelling with some early 20th-century additions ... the framing of the southeast room in the main part of the house is different from that in the rest of the building, indicating that this may have originally been a one-room end-chimney structure [a "stone-ender"] entered through the door that now opens onto the porch on the south side of the house ..."
This house remained in the Budlong family through many generations until 1929 when its last Budlong owner, Henry Warner Budlong, who never married and had no children, willed it to his housekeeper's daughter, Emily (Ruville) Hohler. It was in this beautiful home that John Budlong raised his six children: John Jr., Moses, Daniel, Rebecca, Mary, and Isabel. Over the years, John Budlong continued to acquire more land until he owned many hundreds of acres throughout Warwick and Cranston. When he died in 1744 he was buried on his farm, probably at Historical Cemetery #74 on Houston Drive.
Through John Jr., Moses, and Daniel, the name Budlong was kept alive. Their descendants were numerous. Some were farmers who worked small parcels of the original Budlong land throughout Warwick and Cranston. Some were soldiers who fought in the Revolutionary and Civil Wars. Some were businessmen or ministers, authors or shipbuilders, doctors or pioneers. Most were moderately successful in their chosen fields, and some achieved greatness. There were even a few who achieved a certain degree of notoriety. Their numbers include Henry Warner Budlong, the last member of the Budlong family to own the John Budlong house in Buttonwoods. A noted philanthropist, he completely funded the construction of the Henry Warner Budlong Library in Apponaug, donated the land for City Park to the City of Warwick, and ran Buttonwoods Camp on the shores of his property for families of limited means. There were the Budlongs whose produce farm on Pontiac Avenue near Garden City was so successful that they needed two hundred employees to work it ... the Budlongs who moved out to Chicago and founded the highly successful eight-hundred-acre Budlong Pickle business ... and the very wealthy Budlongs mentioned in the book Theophilus North who resided at The Reef at Brenton Point in Newport ... thousands of Budlongs who made their way through the generations and spread all throughout Rhode Island and across the United States.
Unfortunately, there are many questions left unanswered about the very first Budlong family in America. Although we can speculate, we will probably never know for sure where Francis Budlong came from or what he did for a living. We may never know where the original Budlongs lived and why they elected to stay there while war was raging all around them. We will probably never determine on what day they died or even where they were buried. We can only be certain that a young boy somehow survived an Indian massacre in 1675 and eventually made the most of what was probably his only inheritance ... a few acres of land and his father's name.
Works Cited:

James N. Arnold (comp.), Vital Records of Rhode Island 1636-1850. First Series: Births, Marriages and Deaths. A Family Register for the People (Providence, RI: Narragansett Historical Publishing Co., Inc., rep. 1982).
John Osborne Austin, The Genealogical Dictionary of Rhode Island; Comprising Three Generations of Settlers Who Came Before 1690 (Albany, NY: Joel Munsells & Sons, 1887).
George Madison Bodge, Soldiers in King Philip's War, Being A Critical Account Of That War With A Concise History Of The Indian Wars Of New England From 1620-1677 (Baltimore, MD: Genealogical Publishing Co., Inc., 1991).
Joseph A. Budlong, The Budlong Genealogy (unpublished manuscript).
Howard M. Chapin, The Early Records of the Town of Warwick (Providence, RI: E. A. Johnson Company, 1926).
Journal of Frank Clifford Potter, 60 Woodward Avenue, East Providence, RI, formerly the property of Walter Lee Potter, Trial Justice in Johnston, RI and grandfather of Frank Clifford Potter (at Cranston Historical Society Library, Scrapbook #12).
Statewide Historical Preservation Report K-W-1: Warwick, RI (Providence, RI: College Hill Press, 1981).
James Savage, Genealogical Dictionary of the First Settlers of New England Showing Three Generations Of Those Who Came Before May 1692 on the Basis of Farmer's Register (Baltimore, MD: Genealogical Publishing Co., Inc., 1969).
Lila Budlong Young, The Budlong Pioneers (1963).